Explore Hvar, Croatia!
"June 2002"
by
Marilyn King
Copyright © 2002—All rights reserved worldwide.
No part of this report may be reproduced without prior written consent.
---
Zhivjeli! (Cheers!) Hvar Island—
Fields of lavender—beautiful countryside—ancient stone farmhouses—clear turquoise water—picturesque walled villages built during 12th–15th centuries.
Hvar Island has the most sunny days of all the islands in the Jadran Sea. It is called "the lavender island"—thanks to its large lavender fields. The water surrounding the Hvar coast is the cleanest in the Jadran Sea. Hvar Island is on a list of the 10 most beautiful islands in the world.
I traveled with a busload of women—bellydancers from Prague and other areas of the Czech Republic. I was the only American. It was a chance to experience a new destination as well as immerse myself in dance!
I have visited Croatia before—Zagreb, Makarska, Dubrovnik, Rijeka. This would be my first chance to experience the islands I have heard so much about!

Tabor—Just passing through...
Photo by M. King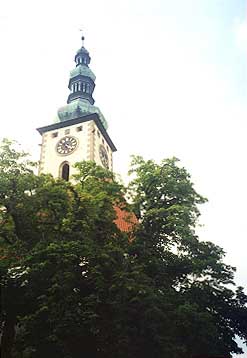 The drive south went through beautiful Czech countryside— rolling hills with many shades of green, towering forests, castles in the distance (yes, must check these out soon), small quaint villages with Baroque churches.
We passed artificial ponds built in the 16th Century—filled with carp. This delicacy is traditionally eaten during Christmas. We picked up more passengers in Tabor. Tabor was inhabited by the Celts in 1st Century B.C. and later founded as a Hussite Town in 1420. Tabor is a National Cultural Monument.
Embark to adventure!— Photo by M. King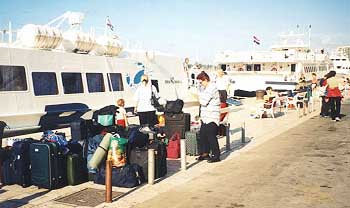 Our bus arrived the next morning in Split—warm sunshine, brilliant blue skies, clear turquoise water. A very nice mixture of old and new—so much life! Croatian folk music emanating from cafes and restaurants across from the busy harbor. Ferries large and small passing each other. A huge, bustling outdoor market encompassing many city blocks. Lots of new construction. What was once open hillside is now covered with new homes. Split has grown so much since my last visit!

We embarked on a comfortable passenger ferry to Hvar passing—beautiful islands. At the ferry terminal near Stari Grad, we were picked up by a bus. The winding road went by wonderful medieval villages, landscapes with palm trees, fir trees, lavender fields, vineyards, and olive groves. We arrived at our hotel by the sea—a short walk from Vrboska.

Vrboska!— Photo by M. King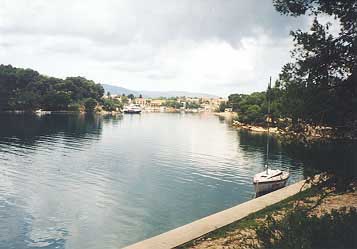 Walking along picturesque bays and beaches shaded by large pine woods, the water is so clear—it could be a diver's paradise. Vrboska—a 15th Century village, accentuated by its unique church-fortress in Baroque Renaissance style—is one of the most beautiful on Hvar Island.

Vrboska!—Getting Closer! Photo by M. King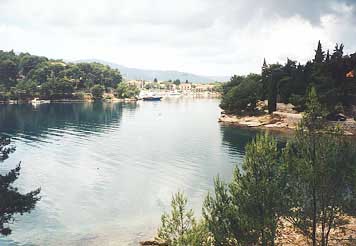 Vrboska!—Almost there! Photo by M. King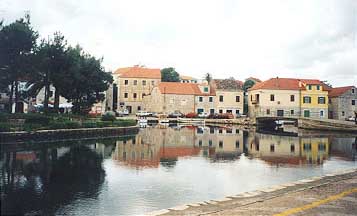 Vrboska!—Arrival!
Photo by M. King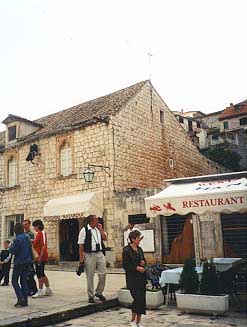 Stopping for lunch at the Buffet Skojic', Vrboska, I had my first of numerous seafood salad lunches. The Salad Frotti DeMare consisted of mussels, shrimp, clams, squid, octopus, local fish with chunks of garlic, olives, and marinated in olive oil and served on a heaping bed of lettuce. It filled a normal dinner plate. The local Hvar red wine was dry with hints of fruit and spice—but the bottle has a screw cap like a soda bottle instead of a cork. Surprisingly, this did not have a reflection on the taste. The cost was under US$4 for salad, bread, and two glasses of wine.
The hotel served sparse continental breakfasts, and uninspiring dinners—for what was a low package price. I decided that lunch

Vrboska!—Explore!
Photo by M. King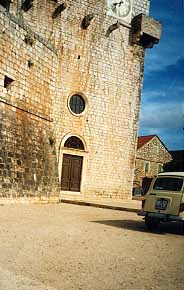 was to be my main daily meal. I would check out the local seafood/fish dishes in the various island villages. It proved to be a wise decision, as it was all quite excellent.

Vrboska!—Relax in the shade! Photo by M. King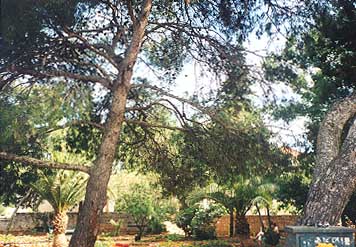 Vrboska!—Celebrate victory over Italy!
Photo by M. King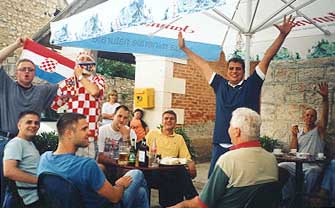 Croatian folk music coming from the restaurant next door—families joined together in celebration. They sang with the music, cheered, danced, drank and dined. The Croatian flag was proudly on display. Passing by, they invited me to join them! I was warmly welcomed into their festivities. Saturday, June 8—Croatia won the Football Game over Italy!! Vrboska was alive!!

Vrboska!—Celebrate victory over Italy!
Photo by M. King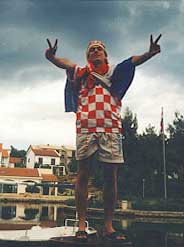 Vrboska!—Celebrate victory over Italy!
Photo by M. King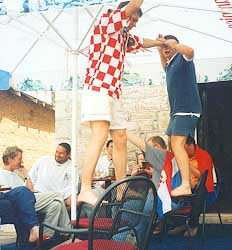 Vrboska!—Have some wine! Photo by M. King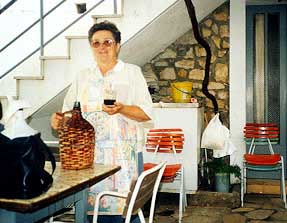 On my walk back to the hotel, I stopped at a home-based winery. They offered red or white wine in a glass or plastic bottle. I tasted!—opting for red in a glass bottle. Cost was 10kn, which was under US$1.
Hvar—Marina Photo by M. King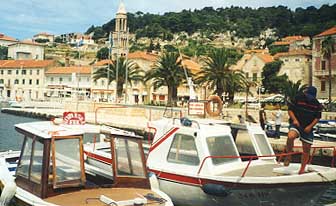 The local bus from Vrboska to the town of Hvar cost 19kn. The bus stops near an open air market, where you walk through to the magnificent Piazza. This beautiful square is lined with shops and restaurants. Dominated by St. Stephen's Cathedral, it is bordered by the palaces of Groda and the cascading stone-built houses of Burag.
Hvar—Hvar Photo by M. King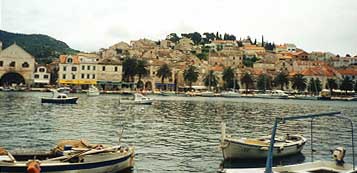 Walking along the waterfront promenade, you see a row of palm trees and seven–centuries–old walls. Topped by the fortress protecting Hvar, they extend downwards to the town. Hvar immediately presents itself as a monument—a jewel hidden by time.

Hvar—Marina Photo by M. King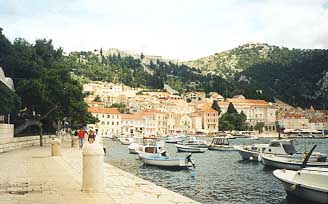 Its harbor spreads towards the sea and you see small islands called Pakleni Otoci. You walk past hotels, apartments, restaurants and cafes, all reflecting the glossy spirit of an exquisite resort area for almost a century and a half. The smell of lavender is in the air. I checked out the Amfora Hotel and their dive operation. I had an Octopus Salad for lunch accompanied by a glass of cold white wine. Yes—definitely must return.

Hvar—Hike up to the fortress Photo by M. King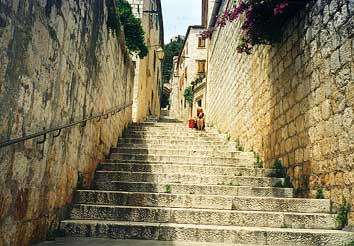 Hvar—The fortress grounds... Photo by M. King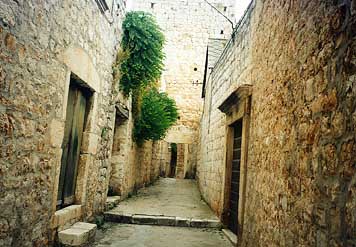 Hvar—Fortress...Whatta view!
Photo by M. King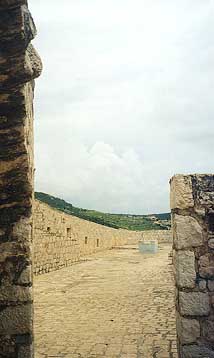 It looks like an impossible climb. The Fortica Hvar (town fortress) is reached by following the road behind the town, or by directly climbing one of the several sets of steps to the road. You enter through a gateway from the road, then hike up a winding path through gardens planted with trees and cactus. How ever you approach—it is well worth it—for the stunning views and remarkable state of preservation. Admission is 10kn, paid when you are almost to the top. Keep your ticket and use it again when you return.
The Fortica Hvar is perched on a hill above the old town and encloses the city's walls. The original fortress was built circa 1150. When the Turks invaded Hvar circa 1570, all the villagers were saved by hiding there. In 1579 it was restored after a gun-powder explosion caused considerable damage. During French rule additional reinforcement was done. Barracks and observation post were built during Austrian rule. Today, the fortress has been reconstructed as a modern tourist complex with diverse facilities. Once used exclusively as a fortified position, the fortress has become a landmark. It commands a superb view of the town and its surroundings—especially by night when the floodlit stone forms of the ancient town appear against the dark skies.

Stari Grad—Harbor Photo by M. King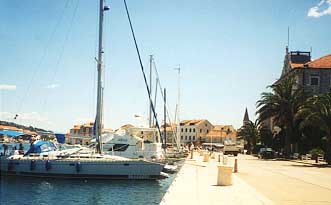 Missing the bus to Jelsa one sunny morning, I opted for the next bus which went to Stari Grad. The bus ride was 10kn. Stari Grad, one of the oldest settlements on the Hvar coast, was founded by the Greeks in 4th Century BC and named Pharos. Today you see signs in town saying both Pharos and Stari Grad.
Pharos is buried under present day Stari Grad. Architectural remains indicate its original lay-out—such as parts of 11-metre long Greek Walls—the Cyclopean

Stari Grad—Typical Street Photo by M. King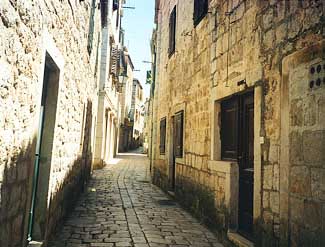 Walls in the Tadic-Gramatorovi wine cellar. These walls compose part of the north city wall. The east walls are just visible behind the church of Sv. Ivan (St. John). Stone blocks from the city walls were incorporated into the foundations of the bell tower—Stari Grad's main entrance.
A Roman town grew up around the perimeter of the Greek town and two preserved Roman mosaics remain under the pavement in the present-day Sridnja ulica (Middle Street). There was a Roman bath under the church of Sv. Roko. A medieval settlement grew up north of the Greek town and also on the eastern coast.
However, these early settlements do not greatly affect the architecture of Stari Grad. The majority of existing buildings were built during the 16th–17th Centuries in Renaissance and Baroque style. But, many buildings with Romanesque and Gothic traces are visible.

Stari Grad—Enjoy some wine! Photo by M. King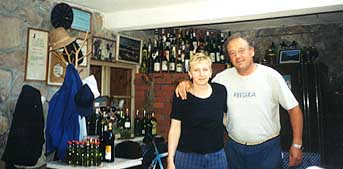 The Hvarske Vinarije is walking distance from the center of Stari Grad's lovely harbor. It was siesta time when I arrived. I just logged my fourth delicious seafood salad lunch. A worker at the winery suggested I walk a short distance to a little home-based winery. After tasting, I bought some of their home-made wares—which included lavender oil and olive oil. In addition to selling home-made wines, herbal liquors, lavender, and olive oil—this lovely couple also rents out part of their home to guests.
Waiting for the bus to Vrboska, I struck up a conversation with an English lady who was driving in my direction—and so returned by car. She has lived on Hvar for 20 years, married to a fisherman. She wouldn't change her lifestyle for anything! Their two children speak 3 languages—English, and two Croatian dialects—the island dialect and the mainland dialect. I guess they are quite different. She also mentioned that the kuna has become very strong in its appreciation against the British pound—interesting!

Jelsa—Toward evening... Photo by M. King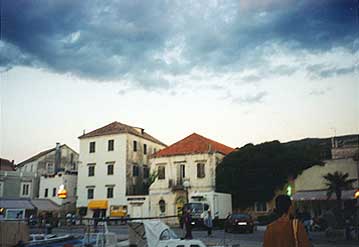 The evening boat ride on the Andrija to Jelsa took about 10 minutes. The sea was calm and still. The sky was aglow with the colors of sunset.
Jelsa is situated in the middle of the north coast of Hvar Island. Its population is concentrated on the sea—and the outskirts are surrounded by dense pine woods on sloping hills. The only place on Hvar with an abundance of fresh water, Jelsa has lusher vegetation. Entering Jelsa by road, you pass through an alley of poplars that leads into the town park. The lush vegetation, is surprising and very rare in this distinctly stony area.
At first sight Jelsa seems to be a relatively new town with 19th Century characteristics in its architecture. Its interesting shape touches upon the churches of St. Fabian and Sebastian, and then branches off into small streets, with a small square where you find the small church of St. John.
You see much new construction. However, you gradually discover while walking around, Jelsa is an old town with a history dating back to ancient times. Like Stari Grad, Jelsa was settled by both Greeks and Romans.
Tightly packed around the picturesque square, which reaches the waterfront, you find many restaurants and cafes specializing in ice cream concoctions. People come from all over Hvar Island to Jelsa to have ice cream. My coffee ice cream concoction cost 20kn (under US$2)—filled an ample size dish and was yummy.

Harbor—On way home... Photo by M. King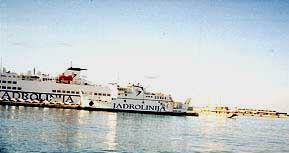 The Jadrolinija car ferry from Stari Grad to Split is the largest ferry I have ever been on. Besides, cars, motorcycles, bicycles, and passengers—there were at least 20 large tour buses—some capable of holding more than 100 people. The fare for the 2 hour crossing was 27kn—or approximately US$2.50. There were a number of cafes that served wine, beer, coffee and snacks as well as the restaurant Pharos—completely set up for fine dining, but serving sandwiches and french fries. What a waste!!
It was time to relax before the long bus ride back to Prague. The 1998 Platski Plavac from Korcularsko Vinogorije was oak cured with hints of spice and delicious. Zhivjeli!
It's easy to consider moving to Hvar—an apartment, a villa, a farmhouse, perhaps a boat. It must be a wonderful place to spend a Prague winter. I will return and find out more!!!
---
Email me:
Flight To Quality—Quality begins here!