Tulip Time Cruise
Tulip Time Cruise through Holland and Belgium—9 Days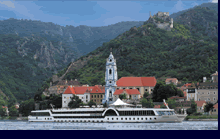 Day 1, Sat: USA – Amsterdam. Overnight flight to Holland.
Day 2, Sun: Amsterdam. Arrive and transfer to your floating hotel. The ship is moored not far from many of the city's attractions. Tonight meet your fellow passengers at your Gala Welcome Dinner.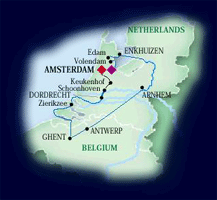 Day 3, Mon: Amsterdam – Volendam – Edam – Enkhuizen. Enjoy a morning cruise through the historic canals of Amsterdam. Then spend some free time to shop. At lunchtime your ship sails out of Amsterdam Harbor. A short cruise on the Ijsselmeer takes you to the Zuider Zee village of Volendam. A day to savor the historic Dutch ports and lifestyle of the old Zuider Zee. The afternoon tour takes you from Volendam to the enchanting village of Edam, famous for its wonderful cheese, and to the picturesque harbor town of Hoorn, once headquarters for the East India Company. Continue through the blazingly colored tulip fields before returning to your ship in Enkhuizen, a charming port village with a rich maritime past, narrow cobblestone streets and fortified gates. During dinnertime cruise across the Ijsselmeer and into the Ijssel River.
Day 4, Tue: Arnhem. This morning, tour the Airborne Museum Hartenstein, which shows the course of events during the Battle of Arnhem, one of the major tragedies during World War II. General Montgomery hoped to capture the Rhine bridge in Arnhem to reach Berlin and finish the war by Christmas 1944. After this exciting museum tour, return to your luxurious ship around lunchtime and spend a leisurely afternoon and evening cruising through Holland and on to Belgium.
Day 5, Wed: Antwerp. This morning, enjoy a guided sightseeing tour of Antwerp, the second-largest Belgian city and one of the world's most Important ancient seaports. See Rubens' House, where the great painter lived and worked for most of his life. Visit the Grote Markt with its beautiful city hall and Church of our Lady and admire the city's superb architecture. The afternoon is free to explore Antwerp on your own or take an optional excursion to nearby Brussels, Belgium's capital and a city of striking contrasts with a proud medieval past. After dinner your cruise departs for Ghent.
Day 6, Thu: Ghent. Disembark after breakfast for a guided sightseeing tour of Ghent, the fourth largest city of Belgium. The city is the real diamond of Flanders. In a unique way Ghent has managed to preserve its medieval power while keeping up with the times. The city center alone is a showcase of medieval Flemish wealth and commercial success. The afternoon is free to explore more of Ghent or to take an optional excursion to fascinating Bruges, one of Europe's most perfectly preserved medieval cities. After dinner there is more time to sample the nightlife of Ghent, before your departure around midnight.
Day 7, Fri: Zierikzee – Dordrecht. This morning, sail through the Dutch region of Zeeland, where you'll find one of the world's most complex engineering projects, the Delta Works, which took over 30 years to complete. After the flood of 1953 the Delta Plan was born to prevent another disaster of this magnitude. The four great sea-arms in the south-west of the Netherlands were closed by dams. Stop in charming Zierikzee for a walking tour and spend some free time to shop or explore on your own. Then continue to Dordrecht, one of the oldest towns in Holland. Enjoy a tour to the 18th century windmills at Kinderdijk, the largest group of original mills. Tonight, take a leisurely stroll through lovely Dordrecht or be part of a special boys choir performance.
Day 8, Sat: Schoonhoven – Keukenhof – Amsterdam. Leave Dordrecht early in the morning and cruise to Schoonhoven, where you can spend some free time exploring this quaint village. From here, a leisurely cruise along the Amsterdam-Rhine Canal takes you to Utrecht. Disembark for an afternoon excursion to the famous Keukenhof Gardens and see the most spectacular display of bulb flowers in bloom. Keukenhof also offers several lakes, sculpture gardens, greenhouses, a windmill open for inspection and several terraces to relax. Before dinner, return to your ship in Amsterdam for another enjoyable evening in the city of magic.
Day 9, Sun: Amsterdam – USA. Disembark after breakfast and transfer to the airport for your return flight home.
---
Included in your Amadeus Waterway—
Deluxe cruise accommodation in 160 sq.ft. outside cabin with hotel-style beds that can be set up as 2 twin beds or one large double bed
Guaranteed shares for singles in select cruise categories
Superb dining with all meals included in the elegant Panorama Restaurant, which accommodates all guests in one seating without fixed seating arrangements
Quality wines from Europe's most famous wine regions with every dinner
Cocktail Reception and Welcome Dinner
Captain's Gala Dinner
Festive lunch outside of Salzburg
Daily sightseeing programs as detailed in the itinerary including: AMSTERDAM canal cruise, VOLENDAM tour and excursion to EDAM and BULB FIELDS, ARNHEM tour plus Airborne Museum, ANTWERP city tour, GHENT city tour, ZIERIKZEE walking tour, DORDRECHT and KINDERDIJK WINDMILLS tour, excursion to KEUKENHOF GARDENS
Special highlights including folklore performances, boys choir, lectures, theme dinners, local activities and more
Services of an Amadeus cruise manager throughout your cruise
Nightly piano music on board
On board amenities including Fitness Center, 100m Walking Track on Sun Deck, Physician, Beauty Salon, Massage, Fun Pool, Lido Bar, Souvenir Shop and Club Lounge
All English language on board in a non-smoking environment (smoking only on the Sun Deck)
All local taxes
---
Reserve your Stateroom now—